Gourmet Food by award-winning chef Richard Poynton and his team
Dinner is a sumptuous 5-course affair with no effort or expense spared to give our guests a memorable dining experience. A host talks you through every mouthful from pan to plate before you sit down to enjoy the culinary team's creations - and they don't mind telling you that Cleopatra's food is all about the tastes, fun and passion that go into good country cooking!
Don't forget to stay for breakfast, though. The unusual and exciting farmhouse breakfasts are the icing on the cake of your flavourful time with us. We so look forward to your stay with us at Cleopatra Mountain Farmhouse.
Fresh ingredients are essential, and being able to pick from the gardens minutes before serving is a real pleasure. For the most exotic tastes, Richard spends hours hunting down local and imported ingredients of the highest quality – flying in fresh salmon from Norway and procuring genuine Parma hams and cheeses from Italy.

A LEGACY SHARED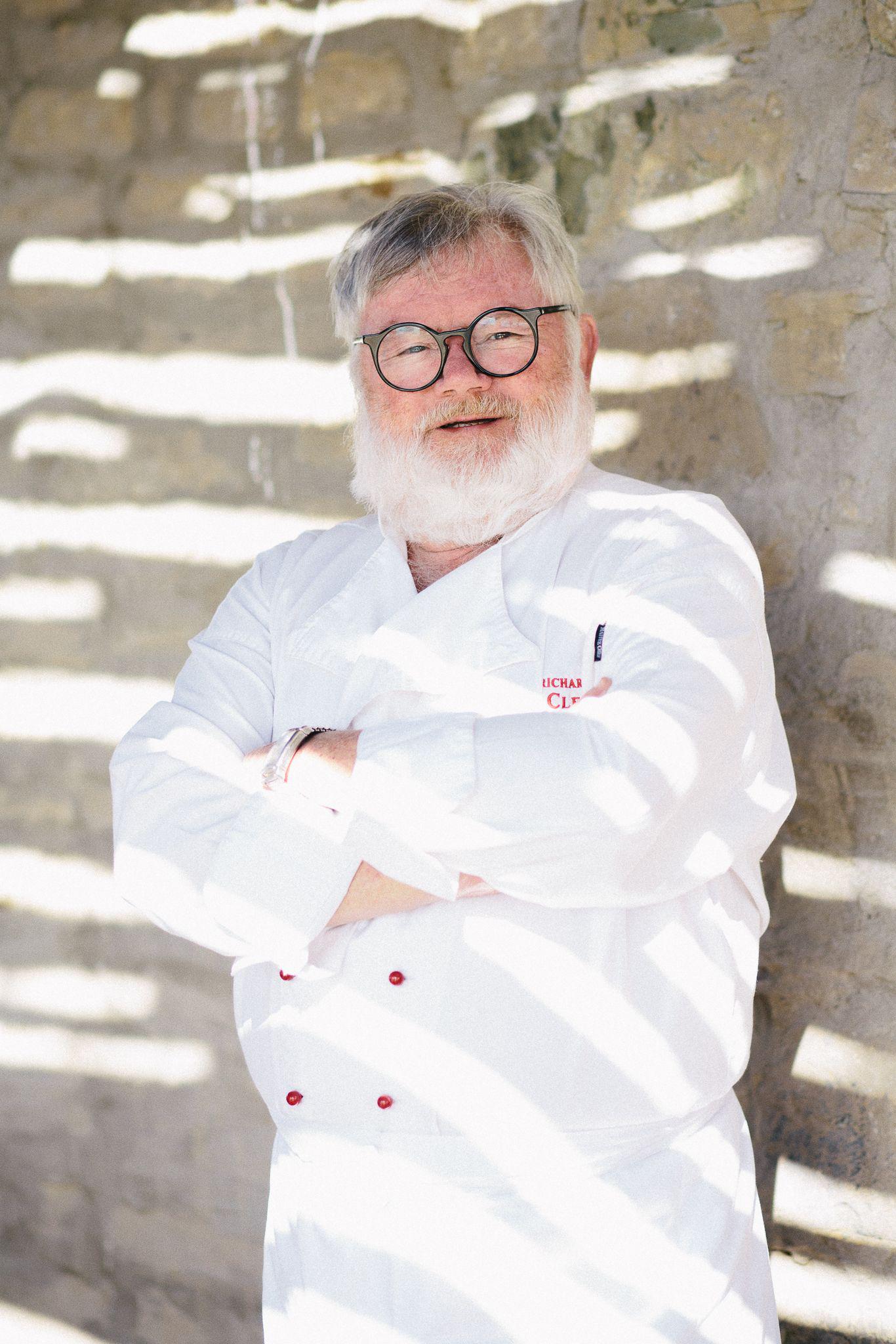 Born on a sugar farm in Zululand, Richard Poynton was groomed to become a farmer. His childhood was spent hunting, shooting and fishing on the farm and sailing boats on the Richard's Bay lagoon. After his schooling at Michaelhouse in the Natal Midlands he felt the need to formally study farming practices and went to the Cedara Agricultural College. After a stint at Rhodes University in Grahamstown- studying Agricultural economics – he returned to the family farm to continue in the family tradition. His grandfather, Fred, had cleared the virgin bush – basically by hand, with a few labourers – in the early 1900s and Richard's  father, Ralph, had continued sugar farming in a more modern era. 

It soon became apparent that sugar farming was not for Richard. He was more suited to the arts! He had played in a band during his school, University and farming days and his love of music has never waned. Mouse had taken up pottery since her days teaching in Howick and so Richard decided to join her and they then went into pottery full time. These were very happy years as they now had two daughters who were growing up with their parents at home. As soon as they got to school-going age he realised that he needed to do something a bit more responsible in order for them to go to private schools. 
He embarked on his first venture in the hospitality industry by converting their existing house into what would become Granny Mouse's Country House. After eight years they then moved to the UK for a year. Here they spent time working with chefs, doing cookery courses in the UK and Ireland and travelling through France and Italy. They learnt so much and realised that this is where their hearts lay.

Returning to South Africa to a family farm in the Drakensberg Mountains they started Cleopatra Mountain Farmhouse – a gourmet getaway. Richard still loves to cook and is very involved in the kitchen at the hotel. Whenever they can they travel with food as their theme. There is still so much to learn and experience. The food revolution has taken off with the emphasis on home grown and fresh farm flavours. This is what appeals to them!